News
We launch our new website together with our B2B shop of accessories and spare parts for textile machinery
09 December 20
A completely renovated website with more content to get to know us firsthand and in detail; and an e-commerce site for ordering spare parts and accessories with just one click. …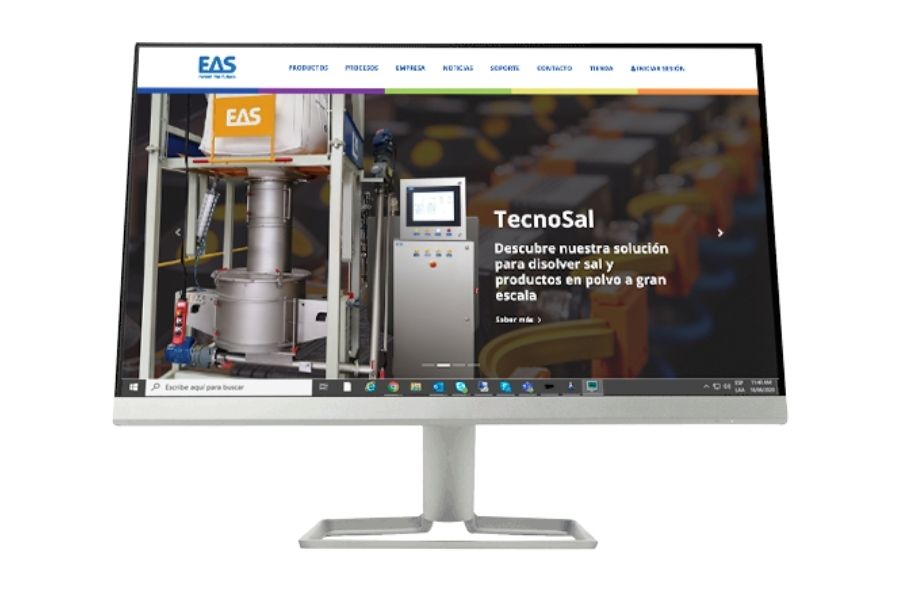 A completely renovated website with more content to get to know us firsthand and in detail; and an e-commerce site for ordering spare parts and accessories with just one click.
After 3 decades developing and building solutions to automate processes in the textile industry, we took a little time to renew ourselves and bring a touch of fresh air to our website.
We have completely redesigned it focusing on the customer experience presenting our products in more detail. In addition, with our new e-commerce you can consult our catalogue of spare parts and accessories and place your order in a couple of clicks.
---
New section: Textile processes
Among the new features, we highlight the new section "processes". In it, we explain how we adapt all our solutions to each manufacturing process, such as the elaboration of denim fabrics, weaving, dyeing, and textile finishing.
We have also extended the information on all our products, providing more details such as new downloadable datasheets, with technical details of our products.
Discover our products with animated videos
The funniest part has been the creation of new animated videos to show how our machines work.
Now all our visitors can get an idea and see how our products work in a graphic way.
Betting on contents
The extension of content is the key commitment of EAS in this new stage. We want to contribute to the textile sector, publishing articles of interest and utility conceived for clients, experts, professionals, technicians, and other stakeholders of the textile, fashion, and clothing sector.
We are also working to share more real success stories, such as those previously presented. Such as the increase in productivity at Têxtil Caiman or the challenge posed by the Elian Group for the development of their dyes. We invite you to read them by clicking on each link!
With this kind of content, our aim is to show how we get involved with our customers in order to offer them the best solutions for their textile mills. To do this we will explain through case studies our working methodology, detailing how our products can help you on the road to industry 4.0 in the textile sector.
Our objective: exceptional technical support
After reinforcing our customer service department, another of our short-term objectives will be to implement improvements in the technical support section.
We are working on a support portal, where you will find a knowledge base to solve easy doubts, find out information about our maintenance plans, and all the help that EAS can offer you.
Quick and easy process to buy accessories and spare parts
Our accessories catalogue becomes alive thanks to this website, designed for a quick and easy purchase process.
You will be able to shop the spare parts and accessories for machinery used in the textile industry saving time. Our catalog has a wide range of level accessories, temperature control, batch controllers, and accessories for dyeing such as water-soluble bags and seam-detector kits.
From EAS we decided to go a step further, so we launched the service worldwide. Place your order and we will make sure you receive it directly at your plant through our transport service anywhere in the world.
Visit our website to take a look at all the news and enjoy the new design. If you liked it, contact us through our contact form, on LinkedIn or Twitter, and leave us your comments.
We hope you like it!